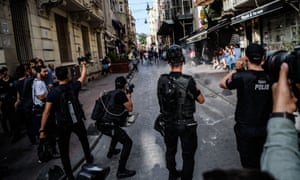 On Nov 23, 2017 The Guardian reported: Turkey's LGBT community says the government's banning of LGBT events is not only an illegal curtailing of personal freedoms but further proof of the government's anti-secular agenda, with some saying they are increasingly worried for their safety.
Respondents to a Guardian callout said they thought Recep Tayyip Erdoğan was waging a war against them, and they felt a change in mood towards their community across the country – including in areas where they had previously enjoyed personal freedom.
Authorities in Ankara imposed a ban on all LGBT cultural events on Sunday night, citing threats to public order and fear of "provoking reactions within certain segments of society". Days earlier, they banned a festival of German-language gay films in the capital city.
Read more at: https://www.theguardian.com/world/2017/nov/23/its-just-the-start-lgbt-community-in-turkey-fears-government-crackdown